Explore James Joyce's Dublin by seeing where he, his characters, and their real life counterparts lived and worked.
The free app is the only guide to both the Dublin of Joyce's life and of his imagination:
Features over 100 locations in and around Dublin connected with the author
Filter by chapter or theme; so you can follow along as you read Ulysses, or create your own walking tour of pubs, houses, schools etc. associated with Joyce
Contains current photos as well as period documents and images to reconstruct the city as it was
Featured In:
Selected Locations
While Joyce left Ireland in 1912 never to return, Dublin continued to live in his imagination, and almost the whole city and its suburbs are referenced in his books. Here are 6 of over 100 locations featured in the app.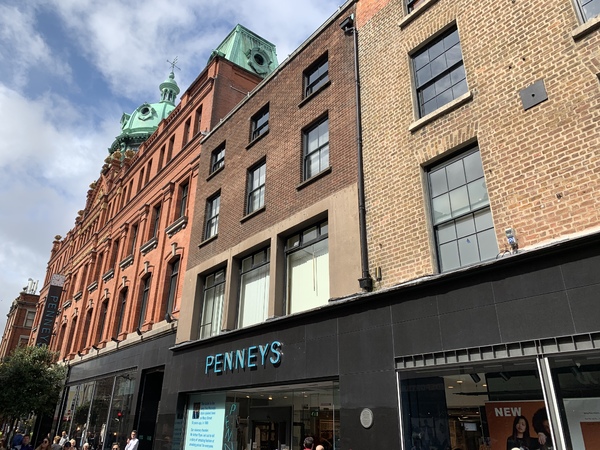 A -

Volta Electric Theatre (demolished)

Joyce founded the first dedicated cinema in Ireland on 20 December 1909. He had seen cinemas in Trieste, and secured financial backing of Italian friends. Joyce remained involved with the cinema for seven months before becoming disillusioned with this venture and withdrawing. The cinema was then sold to the British Provincial Cinema Company; it closed in 1919, but later reopened in 1921 as the Lyceum Picture Theatre.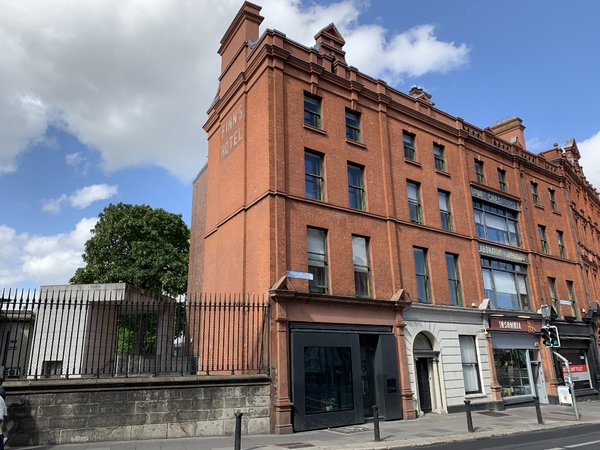 B -

1 Leinster St South

Nora Barnacle, Joyce's future wife and muse was working at Finn's hotel when he first met her. They met nearby on Nassau Street on 10 June 1904. Their first date was six days later on 16 June, a date commemorated in 'Ulysses' as the day of Leopold's walk through Dublin.

In 1909, on a return visit to Dublin to set up the Volta Cinema, he booked his Triestine business partners into the Hotel. He took the opportunity to visit Nora's old room:

"... My God, my eyes are full of tears! Why do I cry? I cry because it is so sad to think of her moving about that room, eating little, simply dressed, simple-mannered and watchful, and carrying always with her in her secret heart the little flame which burns up the souls and bodies of men..."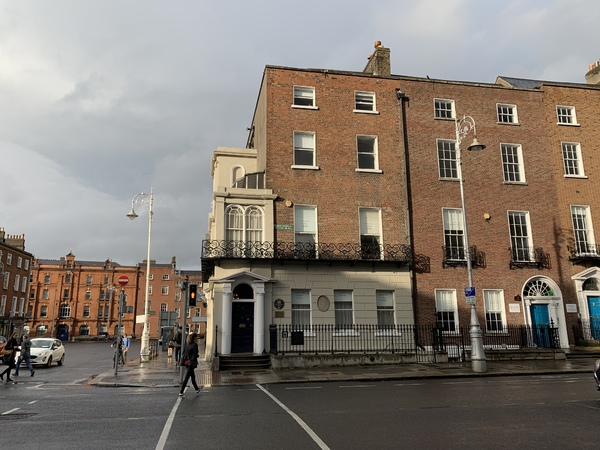 C -

1 Merrion Square

Joyce waited outside this house on 14 June 1904 for his first date with his future wife Nora Barnacle. However, she stood him up. He wrote to her to re-arrange for the 16th of June. This was to be the date he commemorated in Ulysses. The house is also coincidentally the childhood home of Oscar Wilde.

Joyce greatly respected Wilde; he wrote essays on his work and mentioned him several times in his works.

Bram Stoker, author of Dracula, was a friend of the Wilde family, and would frequently visit here.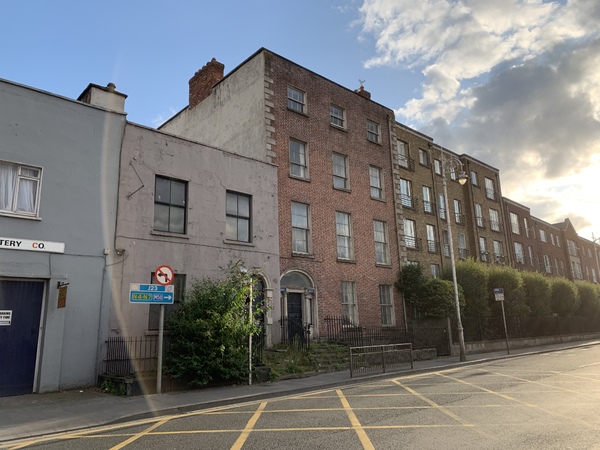 D -

15 Usher's Island

15 Usher Island provides the setting for the music recital in 'The Dead', the final story in 'Dubliners'. It was also where Mary Jane 'May' Murray, Joyce's mother, studied piano and singing at the Misses Flynn School, a school run by two of her aunts.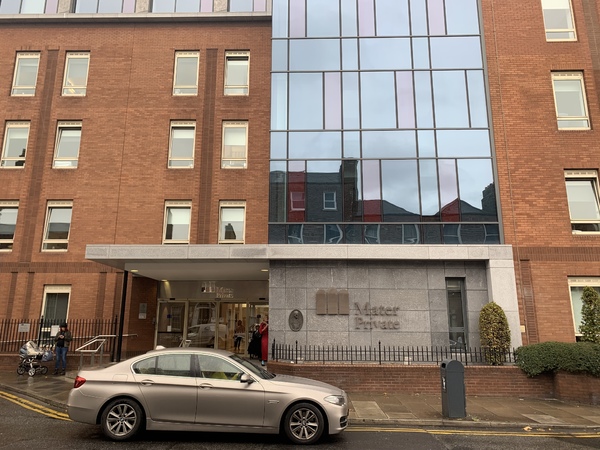 E -

7 Eccles Street (Demolished)

7 Eccles Street is the address of Leopold and Molly Bloom In 'Ulysses.' It is introduced in Episode Four – 'Calypso' with Leopold preparing breakfast. Later, in Episode Seventeen – 'Ithaca', Stephen Dedalus visits after being rescued from Nighttown by Leopold. Finally, Molly makes her soliloquy in Episode Eighteen – 'Penelope'.

In 1909, on a return visit to Dublin from Trieste, Joyce was led to believe by Vincent Cosgrove (who he thought to be his friend) that Nora had been unfaithful to him early in their courtship in 1904. After sending two accusatory letters to Nora in Trieste, a distraught Joyce visited his friend John Francis Byrne who lived at 7 Eccles Street for comfort. John, who had never 'seen a human more shattered' successfully reassured Joyce about his wife faithfulness.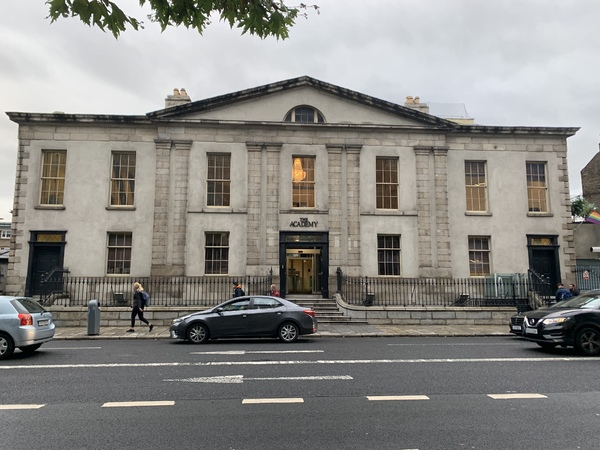 F -

The Antient Concert Rooms (now The Academy)

Joyce pawned some books to take part in the annual Feis Ceoil (Festival of Music) held here on the 16 May 1904. He came third, but would have come first if he had agreed to preform a third song, which he refused (perhaps because it required him to sight read the music).

He performed here again on the 22 & 27 August 1904, with Nora in attendance both times. The latter also featured the legendary Irish tenor John McCormack, whose career was launched by the previous year's Feis Ceoil. Joyce was friendly with him at this time through music. This second concert was also the inspiration for 'A Mother' in 'Dubliners', as Joyce had to accompany himself on the piano, and the series of concerts in the short story are set here.

Later in 'Dubliners' it is mentioned in the 'The Dead' as where Mary Jane preforms her pupil's concerts.

On the 8th of January 1901 he performed in an amateur play here written by his friend Margret Sheehy.

At the time Joyce lives in Dublin, it was named Great Brunswick Street, but was subsequently renamed to Pearse st after the executed 1916 revolutionaries Pádraig and William Pearse who were born on the street. Pádraig, the prime mover behind the revolution, once taught Joyce Irish, but he quit when Pádraig disparaged the English language, especially the word 'thunder', a favourite of Joyce.

The building itself was built in 1824 as offices, subsequently became a music hall, a cinema, and then back again to to its present use as offices.